American Secrets: The Politics and Poetics of Secrecy in the Literature and Culture of the United States (2011), Ed. by E. Barros Grela & J. Liste Noya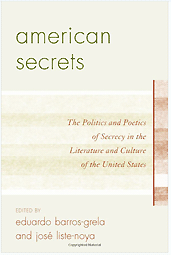 SAAS Conference 2007
Distribution List
The University of Santiago hosts an electronic mailing list for SAAS members. The distribution list announces upcoming conferences, seminars, and academic events, distributes calls for papers, information about fellowships, grants, and scholarships, as well as information about the members' publications. It is also an apt means for sharing information and carrying out surveys.
There are two ways to suscribe to SAAS distribution list:
*Through the web: go here
*Through e-mail: send a message to listserv@listas.usc.es

Leave the "subject" box blank.
Write the text "subscribe saaslist" (without quotation marks) and your name. Mind the spaces: leave one after suscribe and another after saaslist. Take this as an example: subscribe saaslist Constante González. You will then receive a confirmation message. You can then send the messages you want to distribute to saaslist@listas.usc.es